Bar|Scan Software

Bar|Scan® is a complete bar code asset management system that provides specialized barcoding software designed to meet a company's enterprise-wide asset information
needs.
Bar|Scan uses the accuracy of bar codes and powerful portable bar code readers to more accurately track your computers, equipment, furniture, and other resources in less time than a manual inventory.
Accounting, Facilities, MIS, and Purchasing departments can share Bar|Scan asset information on a network-wide basis resulting in better communication without duplicating efforts. Flexibility is the key to Bar|Scan. It works equally well in a warehouse or office environment.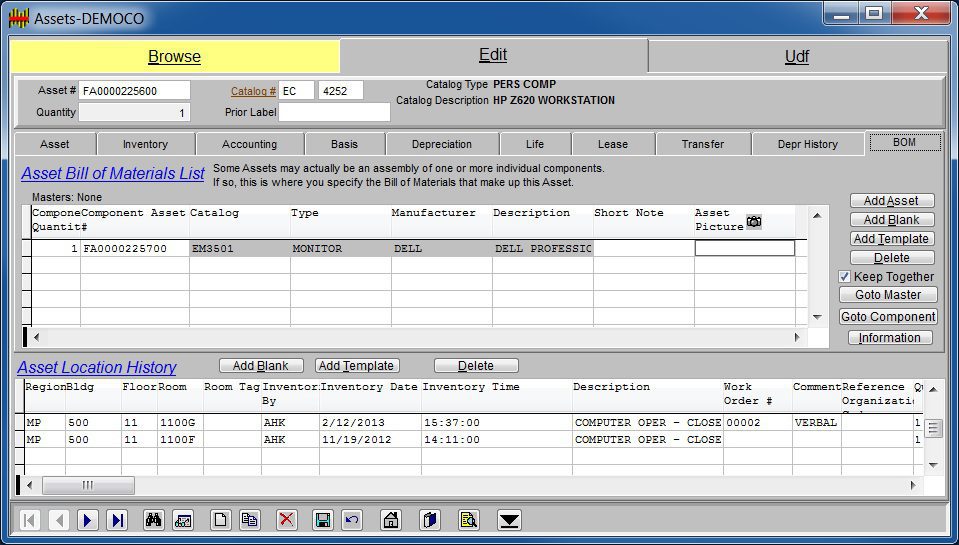 Bar|Scan Smart Client Software

Combining web deployment with local computing
Using Microsoft ClickOnce deployment technology, the Bar|Scan Smart Client can be installed throughout your environment for quick access to your Bar|Scan assets.
Once installed, users can browse, sort, add, edit or print assets. Filters can be assigned by user password so that only assets in their area of responsibility are accessible.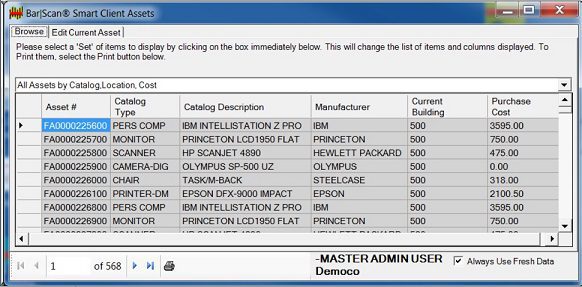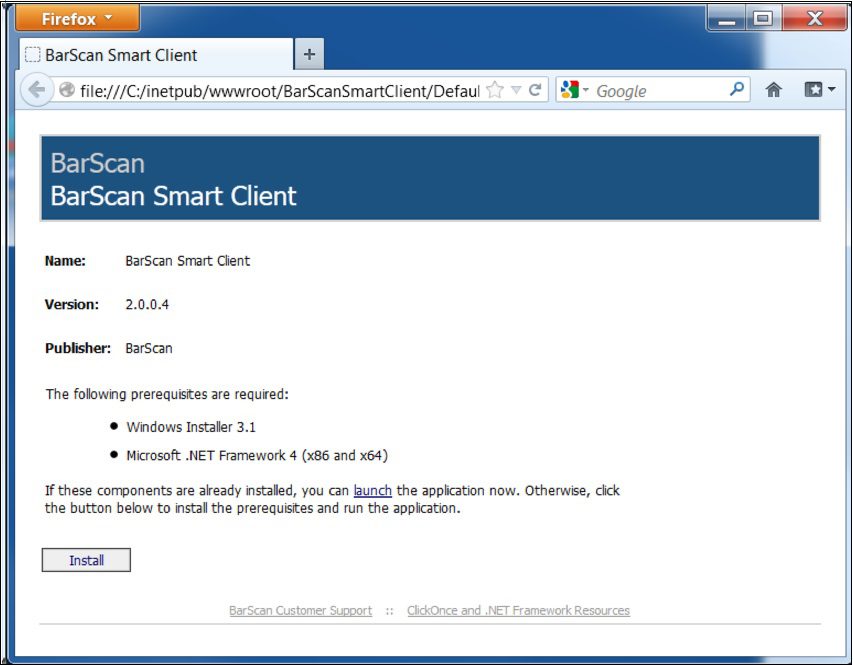 Standard Bar|Scan Server and Workstation minimum system requirements:

Operating Systems*: One of either…
Microsoft Windows XP Home Edition, Professional ( SP 2 or later)
Windows Vista Home Premium, Business, Enterprise or Ultimate
Windows 7 Home Premium, Professional, Enterprise or Ultimate
Windows 8 or 8.1 Standard, Pro or Enterprise
Windows 10 Pro or Enterprise (including Microsoft Surface Pro)
Windows Server 2003 or later (32 bit and 64 bit)
Microsoft Windows Server 2008 or 2012 R1 & R2 (32 bit and 64 bit)
Also compatible with Microsoft Azure Cloud based Virtual Machine (VM)
*Note that this list of qualifying operating systems differs from the list for the BarScan Smart Client. Among other things, the BarScan Smart Client requires that the server support IIS, and both server and client must support certificate based authentication. Standard BarScan does not have this requirement.

Displays:
Super VGA 800 X 600 or higher-resolution monitor with 256 colors
Microsoft Mouse or compatible pointing device
Printers:
A printer is not required use Bar|Scan but you will need to select a default printer to print, even to a file such as Excel. The printer can be an application, for example OneNote or a PDF printer.
Hardware Communication:

For Servers and Workstations that communicate with Handheld devices:
Must allow installation of Microsoft Windows Mobile Device Center or Microsoft Activesync
Must have USB port or WiFi for synchronization
Must be configured to allow and support Tcp/Ip communications over port 10200 between the handheld, the attached PC (when using a cradle) and the PC or communicating with the Handheld device.
Installed Memory:

For Workstations:
Recommended at least 2.00 GB. This can be more if the user is printing to spreadsheets or is using many other applications simultaneously
For Servers:
Recommended can vary. If the user is not running Citrix or Terminal Server and is not using the Bar|Scan Smart Client and is using the server only for common file storage, then one GB over the recommended system requirements is required.
For example, Windows Server 2008 has a recommended amount of memory set at 2.00 GB. That would make a Bar|Scan server 3.00 GB.

Windows Server 2008 System Requirements:

http://technet.microsoft.com/en-us/windowsserver/bb414778

As Microsoft, Inc. describes, memory can vary greatly depending upon what the server is actually used for and how it is actually configured. Applications other than Bar|Scan and certain configurations other than using it as a network share depository will increase this requirement.

If the server is being used to host Citrix or Microsoft Terminal Server, then the amount of memory to be added to the server would correspond to the amount of memory required by the product, any fixed overhead and any per user requirements. Bar|Scan requires 1.00 GB visible to the user in each session, so there would be those amounts plus 1.00 GB per simultaneous user. Consult each products memory requirements to obtain the recommended amount of installed RAM.
Bar|Scan SmartClient recommended minimum system requirements:
SERVER: Supported Server Operating Systems:
Windows Server 2003 Service Pack 1 (32 bit only)
Windows Server 2008 (32 bit and 64 bit)
Must allow installation of:
Microsoft Internet Information Services
Microsoft .NET 3.0
Special Considerations:
All PC hosted BarScan applications and components are 32 bit. This includes the standard PC application, the Smart Client server and the Smart Client workstation.
BarScan and its components will run on 64 bit versions of Windows. However, this is within the Windows WOW64 x86 emulator. This emulator is part of Windows and does not have to be explicitly enabled. It 'just works'. There are some conditions and exceptions:

The BarScan Smart Client server portion will not run ( even in 32 bit compatibility mode) on Windows Server 2003 64 bit.
The BarScan Smart Client server portion requires explicit assignment of a 32 bit Application Pool within IIS (Internet Information Services) on 64 bit versions.
CLIENT: Supported Workstation:
Windows XP Service Pack 2 or later
Windows Vista Business or Ultimate or later
Supported Browsers: Internet Explorer 7.0 or later (FireFox works but is not supported)
Server Storage Requirements:
20 Mb for every 1,000 assets plus space for any images, e.g. 10,000 assets will require 200 Mb. The application requires an additional 50 Mb on the host.